4 min

|

Rhiannon Lockhart
4 Healthy Recipes For Your Next Backyard Picnic
Nutrition
,
Recipes
Healthy eating in the summer can be easy!
Plus, when you take your meals outdoors, it makes it more fun for you and your kids, or adds a little extra jazz to a romantic date-night dinner. That's why I love the idea of having an easy, backyard picnic! All you need is a large blanket, and some reusable plastic plates and cutlery!
Hint: if you need a reminder as to why getting outside is important, check out
this article from Dr. Lawren Chan
.
Check out these 4 healthy recipes for your next backyard picnic:

Quinoa Salad
Ingredients:Serves 4
½ cup blueberries
1/2 cup dry quinoa
1/4 tsp salt
1 cup water
2 green onions or chives
4 basil leaves, finely chopped
1 red pepper, finely chopped
Juice of 1 lime
2 tbsp olive oil
Salt and pepper to taste
Directions:
In a pot on medium-high heat, add olive oil. Then add quinoa and salt, and toast lightly, stirring consistently to avoid burning.
When lightly toasted, add water, plus a dash of salt. Cover and let cook according to directions on package (usually about 15 minutes on low heat).
When quinoa is done cooking, let cool completely.
Once cooled, add basil, red pepper, green onions, quinoa and blueberries. Mix thoroughly.
Drizzle lime juice and olive oil over mixture, mix thoroughly. Add salt and pepper to taste.
---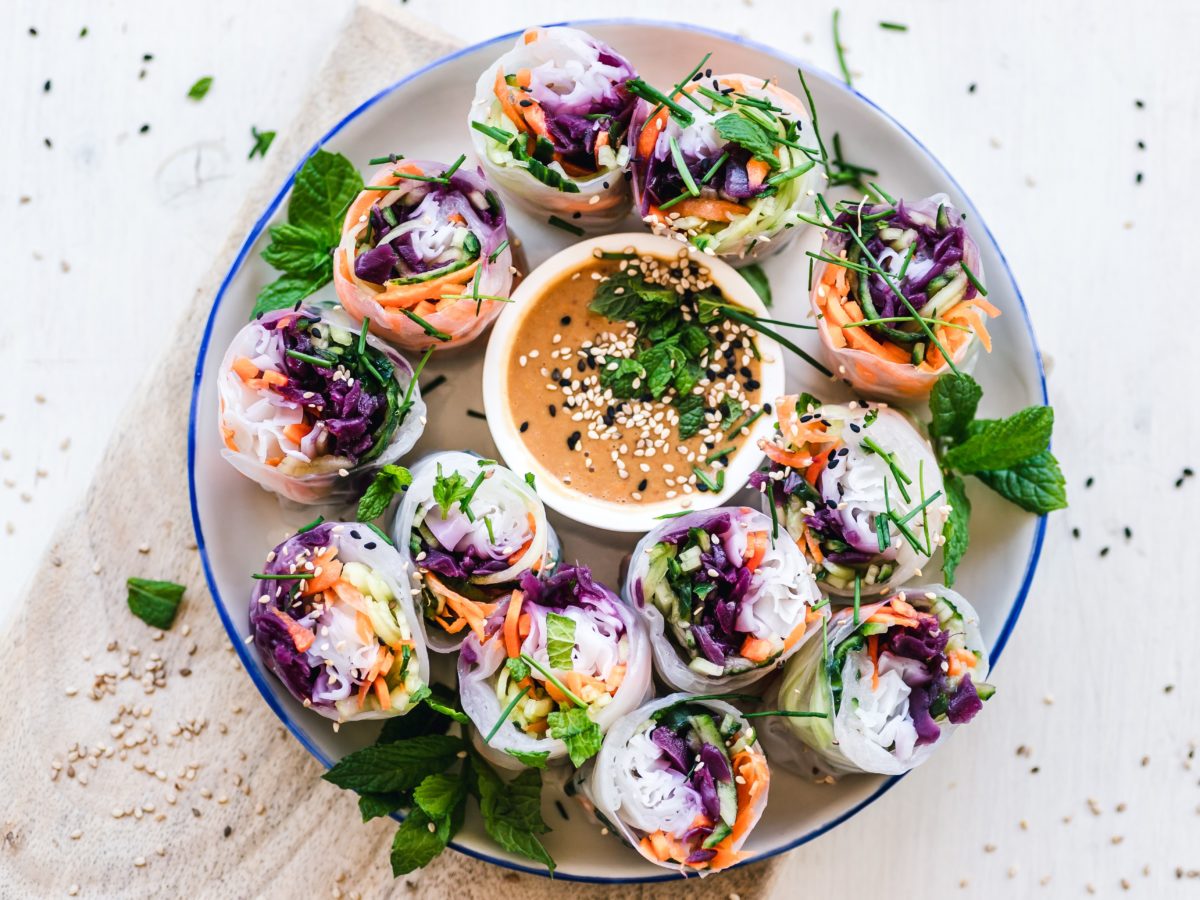 Chicken rice paper rolls
Ingredients:Serves 8-10
8-10 rice paper wraps
1 chicken breast
1 cucumber, matchstick slices
1 carrot, matchstick slices
1 red pepper, finely sliced
5 lettuce leaves, cut in half horizontally
Directions:
In a large bowl, add hot water (not too hot to touch) to moisten the rice paper.
Individually, submerge the rice paper wrap in the water for a few seconds. Lay flat on a solid surface.
Add remaining ingredients in the middle of the wrap, and roll!
Roll tip: don't over stuff your wraps, and pull tight! The wraps are tougher than you think.
---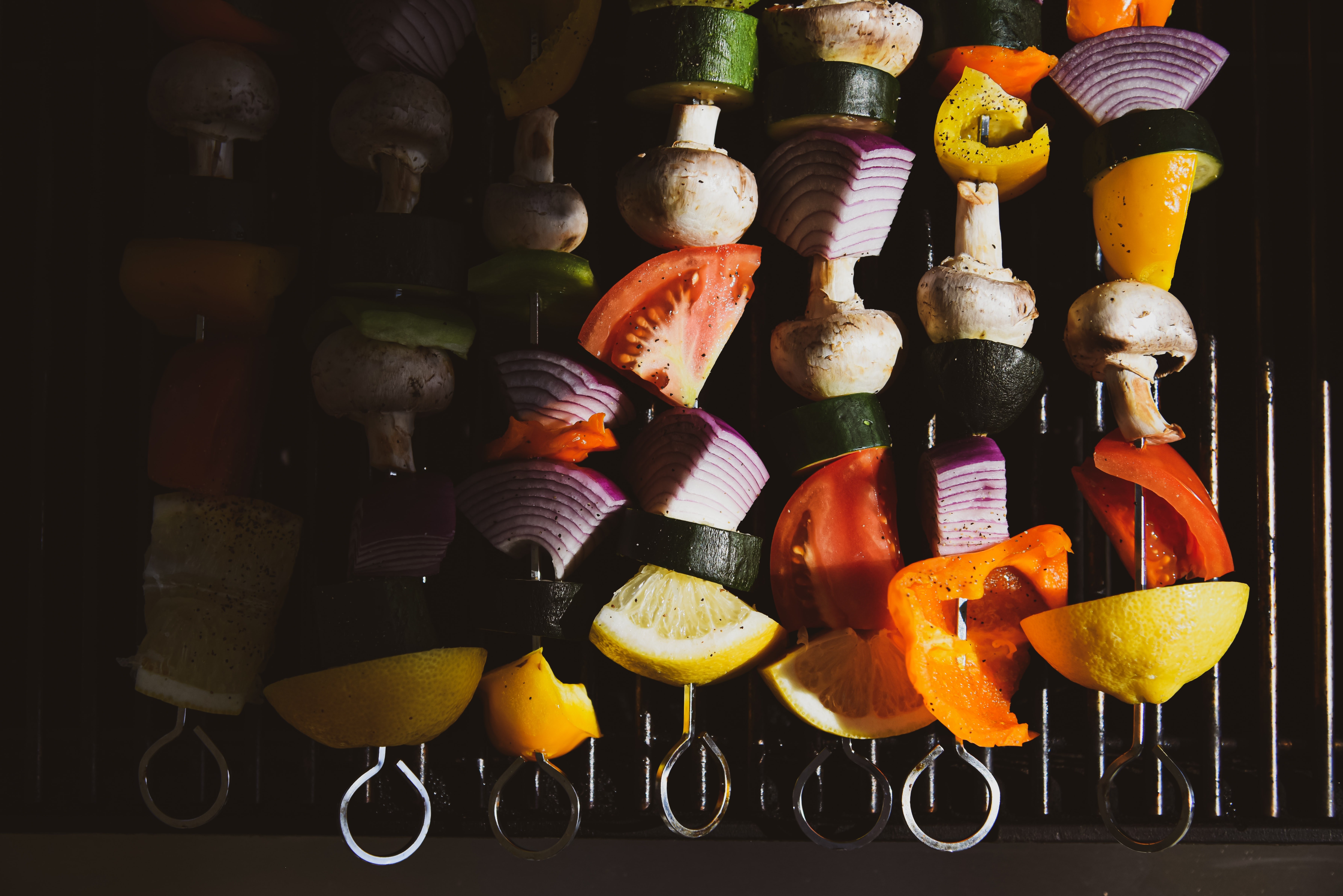 Vegetable skewers
Ingredients: Serves 8
8 skewers
1 red onion, cubed
1 red pepper, chopped into squares (about 1cm)
10 button mushrooms, cut into quarters
Options: cubed chicken breast, cubed tofu, shrimp
Marinade:
2 tbsp olive oil
2 tbsp mustard
1 tbsp raw honey
½ tsp. Salt
½ tsp. Pepper
Directions:
Add all ingredients to the skewers, alternating type of vegetables. Lay all skewers in a shallow pan or baking dish.
In a bowl, whisk together all marinade ingredients.
Pour marinade over skewers, coating completely. Let sit for 30 minutes in fridge, or overnight.
Cook on the BBQ at medium-high heat until vegetables (and meat if used) are cooked.
---
Fresh Potato Salad
Ingredients:Serves 4
2 cups mini potatoes, chopped into halves and quarters (depending on size)
2 green onions, thinly chopped
2 tbsp. Olive oil
Juice of 1 lemon
1 tsp freshly chopped dill
1 tbsp. Dijon mustard
2 hard boiled eggs
Directions:
Boil potatoes until lightly tender (you should be able to easily put a fork through it) When finished, drain water from potatoes and rinse with cold water.
In small pot, hard boil eggs (approximately 10 minutes). When finished, drain water and place eggs into an ice bath. Peel and chop.
Add potatoes, hard boiled eggs, and remaining ingredients in a bowl. With the back of a fork, lightly mash and mix ingredients together. It should still have large potato chunks.
If you're looking for more healthy-eating ideas, aside from backyard picnic recipes, chat with our Registered Holistic Nutritionist!
---
Rhiannon Lockhart
Rhiannon is the Registered Holistic Nutritionist at Integrative. She has a passion for making healthy eating easy, accessible and fun, loves getting outside, and enjoys spending time with her dog, Chloe!
Learn More